felt coasters from colorful wool, 5 mm for in many shapes
The coasters stylishly catch drops and prevent unsightly edges on tables. Our high-quality coasters felt in 5 mm thickness can be used on both sides and are ideal for placing glasses, wine bottles, whiskey tumblers, vases and for spring decoration. Also as trivet felt for placing hot pots and casseroles are the coasters perfectly suitable. You can choose between plain and classic square or round felt coasters and the more fancy felt coaster in hexagonal or oval. Original designs like star, pig, heart and many more complete our portfolio. Your new wool felt table decoration is a sustainable and renewable eco-natural product and is made from 100% virgin wool: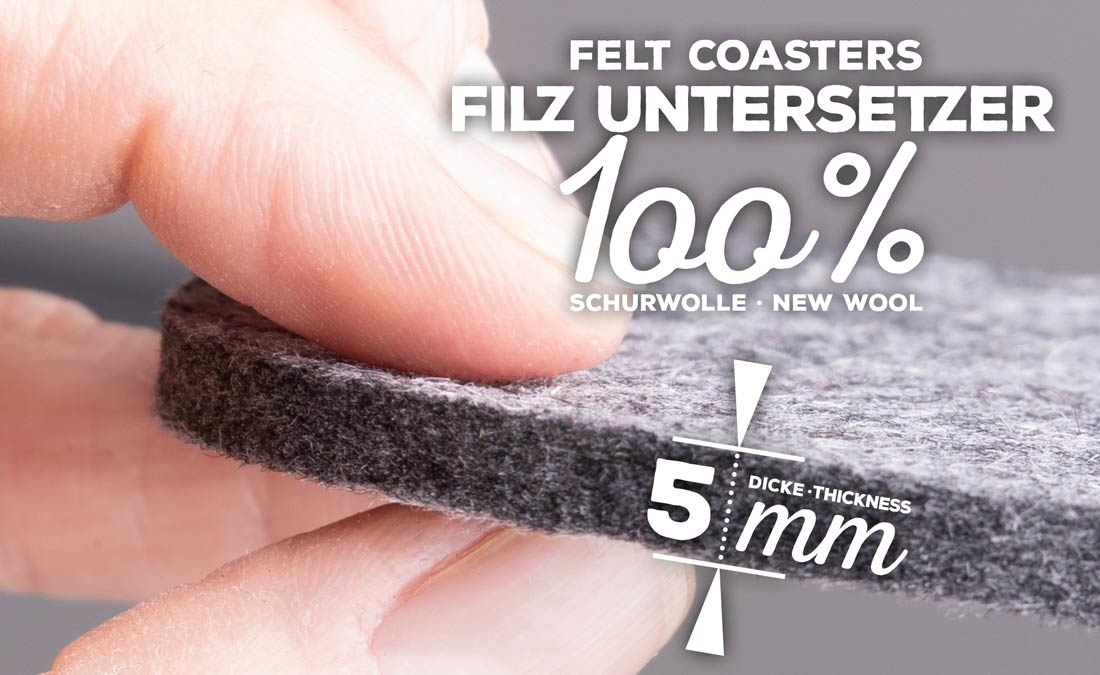 For our collection of coasters are 20 modern colors in uni or mottled to choose from: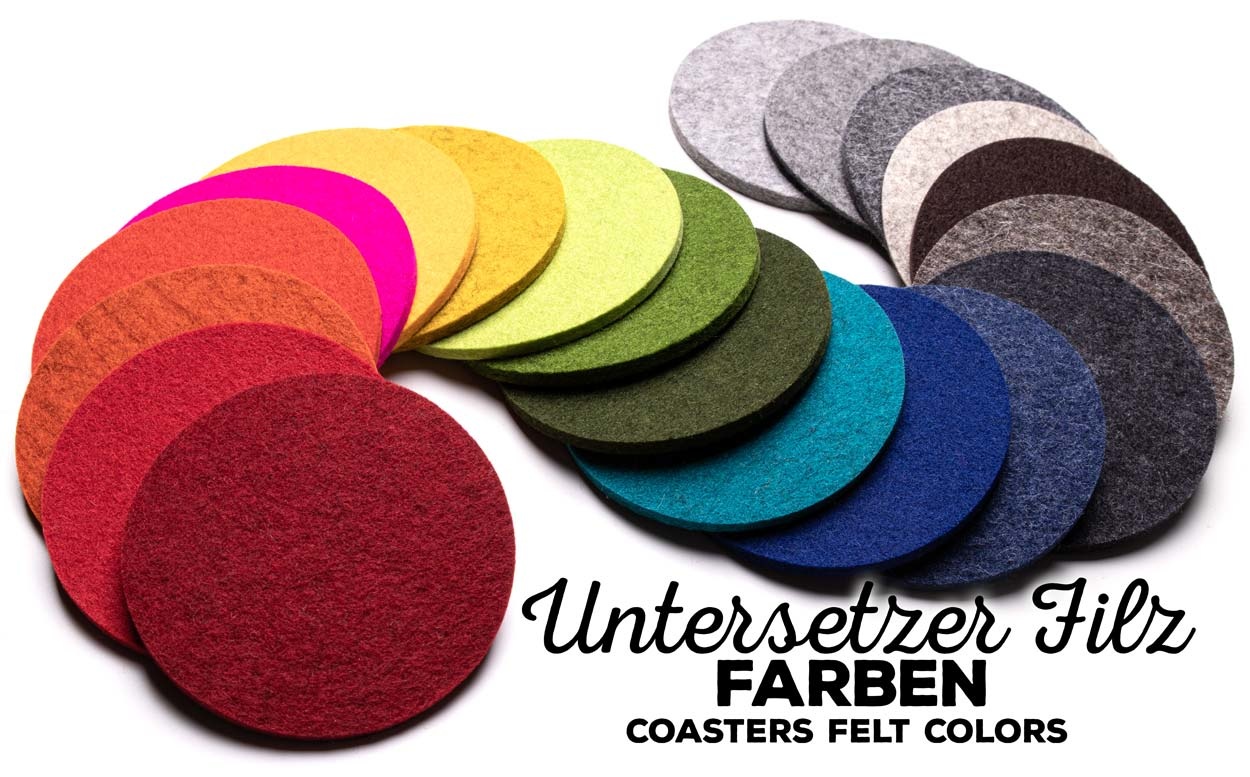 You can order the matching felt placemats to our coasters online. Coasters in special sizes can be made according to your measurements at the cuttings.
werktat felt glass coaster for simple table decoration
The modern felt coasters decorate your table easily and quickly. We produce the soft but durable table decoration in many different colors and they can be wonderfully combined. The werktat coasters are available in several sizes and adorn your table just perfect.
Felt as a simple trivet for pots
The coasters are heat resistant and can easily withstand temperatures up to approx. 220° Celsius. The felt is flame retardant (B1 certified) and does not burn. Therefore, the plain felt coasters are very suitable for placing hot pots, pans and casseroles - the coaster protects your table or sideboard by the heat-insulating effect. We did not notice any discoloration or dark spots as with other materials.
Of course you can use the beer mats or felt coasters several times and also clean them. Please find here the care instructions for wool felt products.
FAQ
What material is used for the felt coasters and is it sustainable?
For the felt coasters we use natural, 5 mm thick wool felt made from pure new wool. The felt is a sustainable natural product made from the renewable raw material wool and is biodegradable. No microplastic is produced.
Where and how are the felt coasters made?
The felt is made in Germany and processed into coasters in our workshop in Ilsfeld. We carefully punch the coasters into the desired contour on our small punching machine.
Why should I buy coasters made of genuine wool felt?
You can use them as glass coaster and as trivet. The advantages of wool felt are:
wool felt coasters are softer and more comfortable than plastic ones
no pilling (no small nodules that can form from the fibres)
coasters made of wool felt do not melt when pots are hot and are flame retardant (B1)
only wool felt coasters have the inimitable, natural look