Bench cushion, bench pad & bench pillow made to measure make your bench comfortable:
With a werktat felt bench pad or bench cushion, any bench, no matter how hard, cold and uncomfortable, becomes a cozy resting place in your home. Our high-quality felt cushions and felt covers create a particularly cozy and homely atmosphere on your bench. Use the felt pad bench indoor and outdoor – from the kitchen to the living and dining room to your favorite spot in the conservatory and on the terrace. You can also make your corner bench more cozy with our bench pads - even if the bench is slanted in the corner.
Custom size bench pads
We offer made-to-measure bench pads in various designs. These are high quality bench pads tailored to your needs: You determine your desired length and width. This allows you to use common dimensions such as
120 x 40 cm, 120 x 35 cm
150 x 40 cm, 150 x 35 cm
160 x 40 cm, 160 x 35 cm
180 x 40 cm, 180 x 35 cm
200 x 40 cm, 200 x 35 cm
220 x 40 cm, 220 x 35 cm
just as realize your very special size. We can also provide the cushions or pads for your bench with anti-slip coating if you wish. You can find many beautiful and trendy colors for your bench cushion with us. Choose what best suits your interior. You will find the matching back section for your bench cushion in our wall cushions.
Bench cushion with padding
The upholstered cushions provide that little extra bit of comfort that makes living extra homey. Two layers of 3 mm felt and 20 mm foam in between ensure that your rear end will want to stay on the seating furniture for a longer time. The highlight here: you can choose the cushions not only in one color, but also in two colors! So you get either a bench cushion to turn (without latex coating), or the bottom color provides a subtle and distinctive contrast line.
Simple bench mats
Are a flat, single-layer seat pad for your bench. It scores as a warming base, which is not thick and noticeable, but still serves a purpose and is a stylish eye-catcher. We use noble 5mm thick wool felt for it.
Bench upholstery felt in the best quality: genuine 100% virgin wool felt
We use wool felt made from 100% virgin wool for the bench cushions. The raw material for the so-called design felt comes from Australian and New Zealand sheep. The felts are manufactured by German producers with a high percentage of very fine merino wool. Wool felt is particularly characterized by its temperature-regulating properties: warming in winter and pleasant in summer. It is durable and keeps its shape - so you can enjoy our products for a long time.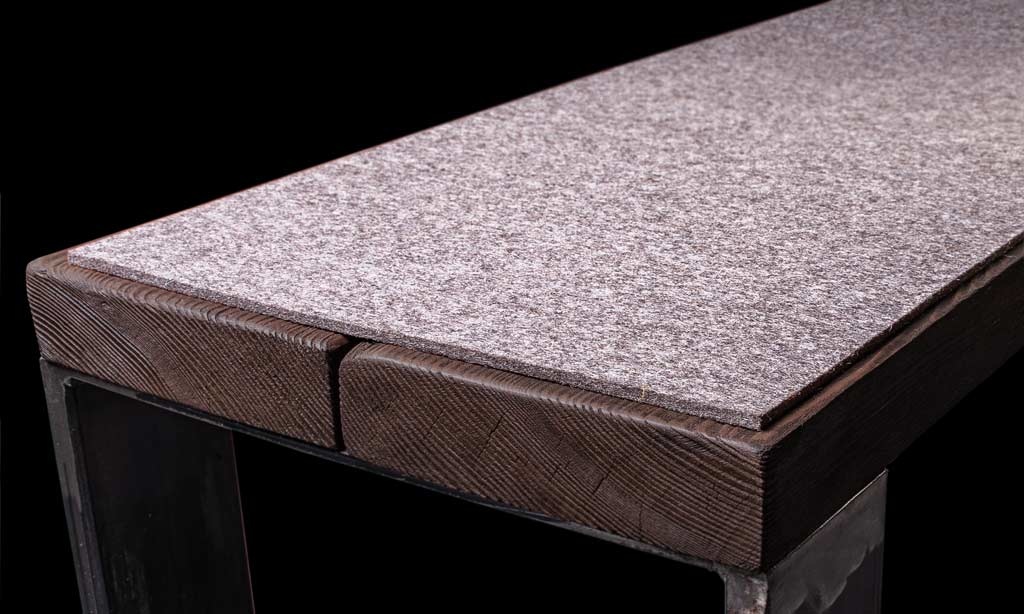 Craft from southern Germany
With us there are no cheap mass-produced goods - we manufacture your bench pads or bench cushions especially for you by hand in our small manufactory in southern Germany - and that for a fair price. If you have any questions or need personal advice, please do not hesitate to contact us. If you have already decided, you can buy your bench cushion here.
FAQ
How large should I order my bench pad?
We recommend that you order the bench cushion slightly smaller than the seating surface on all sides. Ideal is a distance of 0.5 to 1 cm to the edge of the bench.
Can I use the bench pads outside on the garden bench?
Yes, of course, you can use the bench pads and bench cushions in the garden or on the porch. A few drops of rain will not harm the cushions - but make sure that the cushions dry thoroughly again afterwards. Please do not leave the bench cushions permanently outdoors, where they are exposed to wind and weather.