Seat cushions of felt bring comfort to any chair.
Felt cushions and chair cushions of genuine wool felt are simply beautiful and comfortable. Due to the pure new wool they look good and are a haptic experience. The high-quality, colorful seat cushions you design to match your interior and become an inviting eye-catcher. We use wool felt for the cover and in between we put a firm padding of foam for long and relaxed sitting. With the covers made of real wool felt your seat will always stay dry and comfortable: in summer temperatures and winter weather.
Optionally, you can have natural latex applied to the underside so that the felt cushions stay where they should: on the chair, stool or bench. The latex is applied by hand and lasts better and longer than many commercial anti-slip coatings.
Are you actually looking for a simple seat pad?
Do you want to make your seating more comfortable, but without too much effort and preferably not too thick? Then take a look at our selection of seat pads! We offer pads in a felt thickness of 5 mm, which are not only comfortable, but also a stylish base.
Our seat cushions are made exactly according to your wishes.
After you have decided on the format (round, squaretrapeze – also made to measure or most recently for the Eames Chair / Armchair), choose one of our sizes.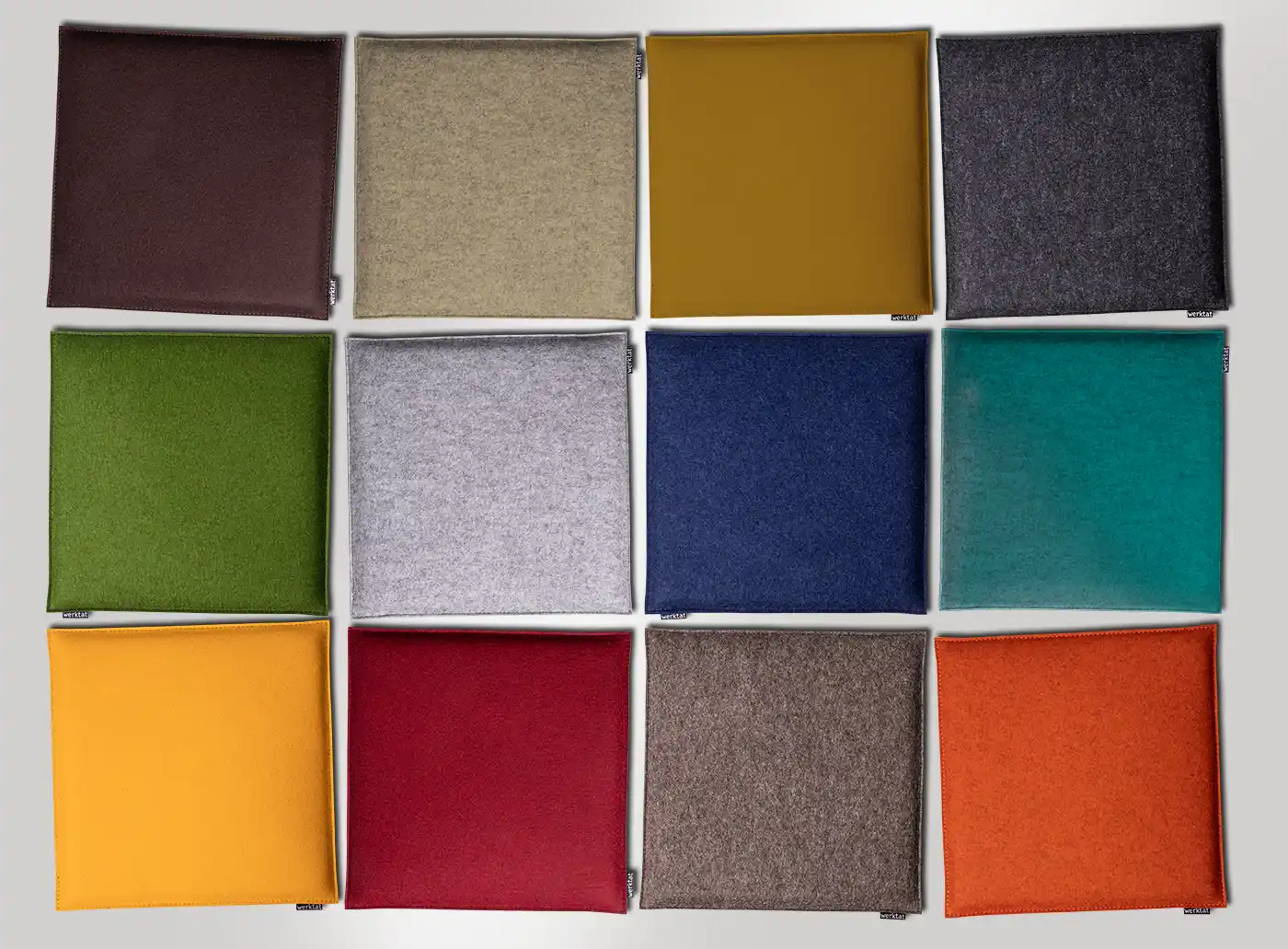 Now you still have countless options how you can design the cushions in colour: Choose from our modern colours the felt for top and bottom and decide whether you need the anti-slip coating for your felt seat cushions. After your order, the felt cover and foam are cut and then sewn.
Here you can see the construction and the high-quality foam upholstery: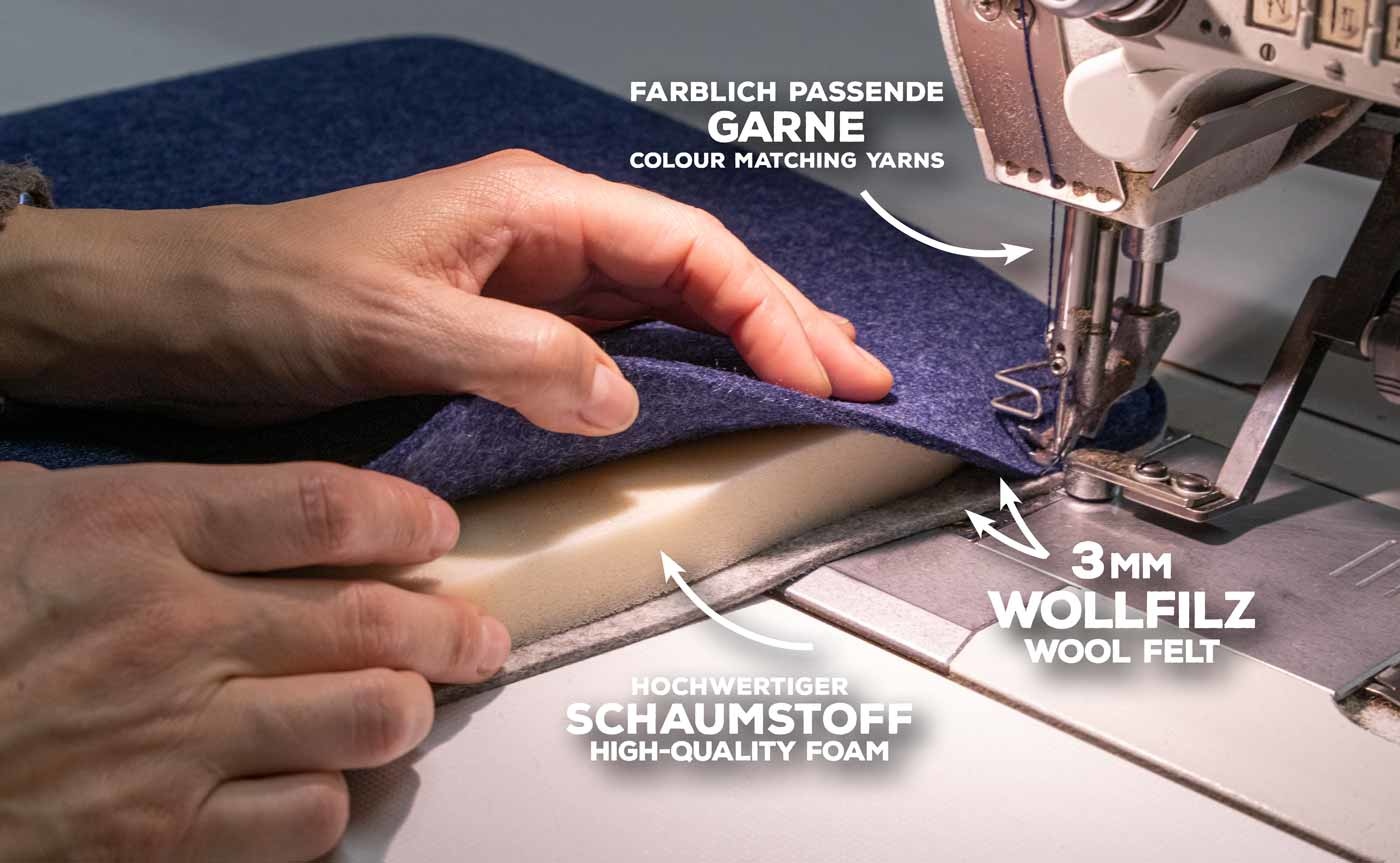 Comfortable accents with upholstered seat cushions
Such upholstery is a good idea if you want to visually refresh your rooms with little effort. They belong not only on the chair in the dining room or on the stove bench, but also on the stool in the hallway, where you put on your shoes. Seat cushions enhance the most simple room decor and make it comfortable and modern. The reversible cushions are beautiful on both sides and can be turned to the other color sometimes.

Bench cushions in special sizes: Your cutom made seat cushion
Bench covers and cushions for benches can be ordered directly online from werktat in your furniture size. We offer felt cushions with free size specification up to 2.05 m length and 0.8 m width. You can also equip unusual furniture seating areas with comfortably upholstered, tailor-made felt cushions.
We use only quality material:
3 mm design felt made of 100% virgin wool
(specific weight: 0.28 g/cm³; hardness M5 acc. DIN 61200; high light fastness; flame retardant: B1
certified; OekoTex Standard 100)
20 mm comfort foam RG 5078, very firm
(volume weight: 50 kg/m³, compression hardness: 7.8 kPa)
extra strong yarns from AMANN
natural latex ammonia-free (optional)
FAQ
Where are the seat cushions made?
We make seat cushions in our workshop in Ilsfeld, Baden-Württemberg. Also the felt and the padding come from German production: Everything Made in Germany.
In which colors is the felt available?
You have a choice of 18 colors. You can also combine different colors for the bottom and top.
anthracite mixed
dark gray mixed
gray mixed
nature mixed
mustard mixed (yellow)
dark red mixed
burned orange mixed
orange mixed
grass green mixed
petrol mixed
denim mixed (blue)
brown chocolate uni
savanna beige mixed
curry uni
brick uni
yellow uni
dark blue uni
Can seat cushions be made to my own cutting pattern?
Yes, seat cushions in special chair shapes are of course possible. Please send us the maximum dimensions (a x b, at the widest point in each case) and at best a photo of the seat surface by e-mail. If you already know which colours the cushions should have and whether you would like to have the anti-slip underside, please add this to the e-mail. Then you will receive an offer from us. For the production we only need a paper/cardboard or a digital template of the pattern on a scale of 1:1.
Can I use felt seat cushions outdoors?
Yes, you can also use felt seat cushions outdoors. Felt is a robust material by nature and can tolerate moisture and certain weather conditions well. Make sure that the cushions are thoroughly dry after use before storing them away. Store the cushions, for example, in a storage box or indoors.