The placemat felt made of 100% wool is simple, plain, beautiful and useful
Create a cozy yet modern and stylish ambiance in your home with our felt placemats. The table sets are available in many different sizes in round, square, rectangular and several other shapes. The werktat felt place mats made of pure wool felt take it easy with drops, dry quickly and protect against cold and heat. They can be used on both sides and are ideal for atmospheric dining table décor and decoration. Discover the creative possibilities that offer you felt placemats for any occasion.
Variety of placemats and middle blanket for color fans
Placemats are available in a wide range of colors. The choice includes gray, red, blue, green, orange or yellow. Our two-tone felt qualities or the natural tone of undyed felt are also particularly appealing. So you can choose your color depending on the use, and set a color accent in your decorations with felt or show discreet restraint on the beautifully set table.
Wool felt placemats
The simple lunch table or the perfectly styled festive table: discover the creative possibilities of our placemats which adapt to any style and occasion. They also perfectly complement new trends such as hygge (minimalism in interior design) or lagom (balanced and sustainable). Our pure wool felt placemats are die-cut in our workshop. We use only the highest quality felts from Germany, which consists of 100% virgin wool (often the particularly fine Merino wool) and is carefully processed. So you acquire regionally produced, durable quality.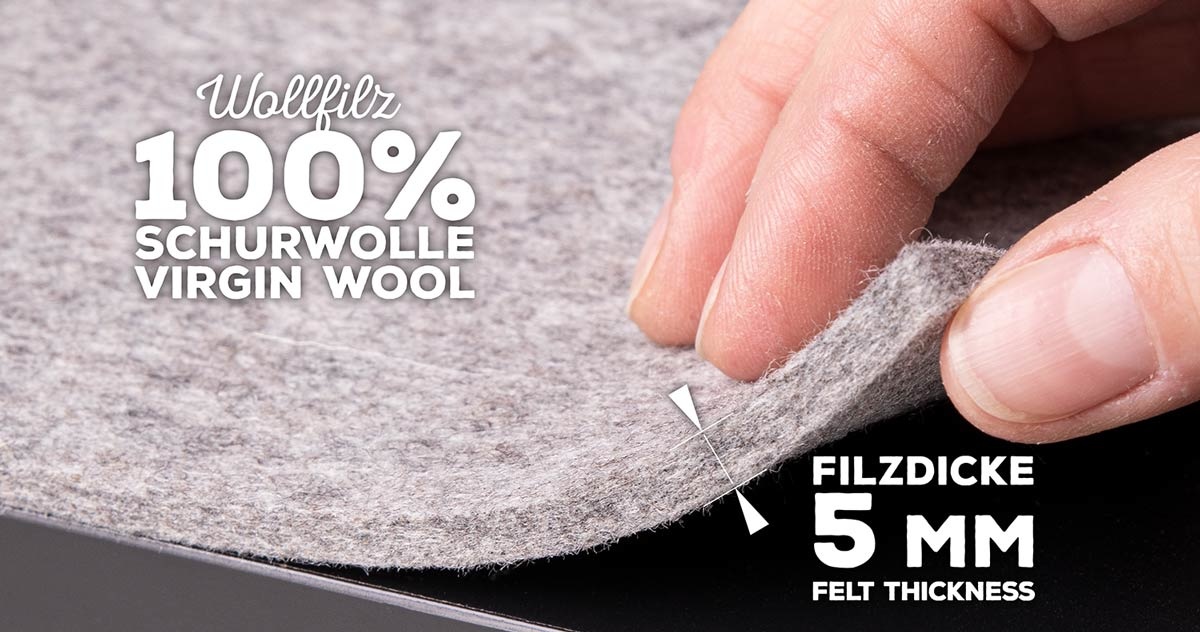 Felt place mats for your modern home
The times for Sunday dinner with starched and ironed tablecloth at the big table in the living room are over in many households. No less stylish are felt placemats, but much easier to handle. Felt table mats and placemats must first and foremost fulfill a practical function. Even in your garden, lightweight tablecloths or placemats can be quite impractical: Our sets won't blow away at the first gust of wind, and your garden table at Sunday get-togethers will remain prettily decorated.
The right table placemat made of felt for different purposes
Use the felt placemat from werktat not only as a classic base for your service and cutlery, but also as a center cover to highlight seasonal decorations such as flower arrangements or candles. Use the felt sets as a base for sharp objects or as a key rack on the sideboard: protecting delicate surfaces like limestone and softwood in an elegant way ... the possibilities are endless. Choose your placemats from a variety of felt in mottled or uni - we are sure we can convince you of the high quality of our pure wool felt products. Matching the felt placemats you will also find table runners and coasters in our store.
FAQ
Why should I buy felt placemats from you?
We only process high-quality, genuine 5 mm thick felt made of pure wool from Germany, which we turn into placemats in our manufactory in Ilsfeld. Since we sell directly from our workshop, we can still offer the table mats of wool felt at a reasonable price.
How large should I choose my placemat felt?
For normal tables (up to about 90 cm wide) placemats with a height of 30 to 32.5 cm are suitable. On larger tables over 90 cm, our large-format placemats can also be used. This leaves enough space between the placemats for pots, bowls or the casserole dish. Please also note that you do not order the round or square sets too small if cutlery and glasses are still to be placed on them.
What to do if a stain gets on it?
Don't worry about stains: Wool felt is naturally dirt and water repellent. Both can soak into the placemats poorly. It's best to pick up small spills right on the surface. You can find out how to clean the sets in our care instructions. We recommend dark, muted and mottled felt colors, which are particularly resistant to soiling