Discover wall cushions with the perfect mix of comfort and modern farmhouse style!
Coziness to lean on:
The cushions add a warm and inviting atmosphere to your back wall, and the leather loops add a dash of country look to your decor. Customize your dining nook, bed, or any other room with our versatile wall pillows.
Wall pillows with leather loops - get creative!
Here's where you can let your creativity run wild - by choosing the felt colors of the front and back of your wall pillows independently. Whether you choose a harmonious color match or an exciting contrast - your new wall cushions will have the unique expression of your personal style.
Our leather loops are not only functional, but also a real eye-catcher. Choose from three elegant colors: the noble "stone gray", the mysterious "blue black" or the warm "brown hazel". You can determine the number of loops according to your wishes. We insert the outer leather loops flush into the cushions, all others are evenly spread along the length. This creates a thoughtful design that is both aesthetically pleasing and practical.
We recommend a distance of 17-31 cm between the loops. In any case, please keep a minimum distance of 13 cm. Here you can find examples with different lengths and numbers of loops: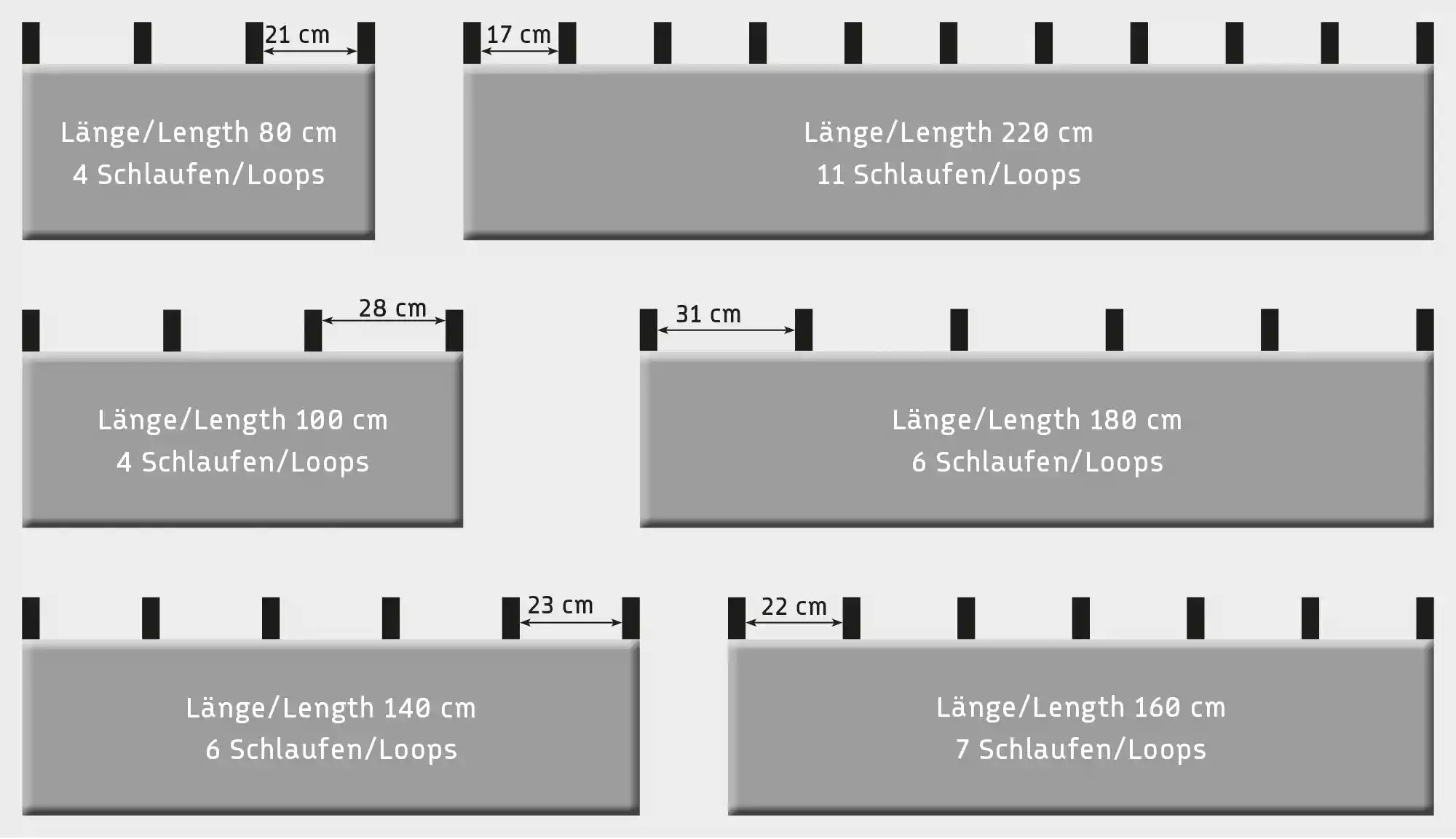 loop width approx. 40 mm
for rod diameters up to approx. 40 mm
The bar is not part of the offer.
Wall cushions made of natural felt and genuine leather
High-quality materials and the customized size make our wall cushions a real highlight in your living room. The back cushions are made of premium wool felt (100% virgin wool) and are filled with durable foam to provide the perfect balance of firmness and coziness. Each pillow is custom made to your desired measurements to fit seamlessly into your interior.
Enjoy the comfort of our back pillows
Our wall pillows are not only a visual delight, but they also provide superior comfort. Sit back and feel the stress of the day fall off of you. Whether you're cozily reading a book, watching a movie, or just relaxing, our wall pillows will make every moment special.
Not only are wall pillows a perfect addition to the home, they also look great in the office or reception area. Use them as a stylish backdrop for your bed and add a touch of modern country charm to your bedroom. In your dining area, they will become comfortable companions that will invite you to linger and make cozy meals a real pleasure.