Gift basket made of felt: ideas for filling personalized
With the originally designed basket and things lovingly chosen by you, you can quickly pack a very personal gift basket or hamper. With it you can quickly make friends, relatives or business partners a great pleasure. So that the gift basket is not unimaginative, we have collected some ideas for different occasions. Gift baskets are always a great solution and certainly not unimaginative: everyone is happy about your personal gift basket! The gift basket is perfect for carrying cosmetics, as a wellness gift basket or with delicacies from Piedmont to the food gift basket. Fill the baskets with delicious candies and turn the candy gift basket into a sweet tooth centerpiece. Or give the basket for moving into the new apartment - filled with bread and salt - as a nod to the old tradition.
Ideas how to make the small basket into a gift basket:
What to fill a gift basket is certainly a very good question, but it can not be answered so generally. Ideas and mottos can be found in the occasion for the gift basket or in the preferences of the recipient. With a little decoration you round off the little souvenir - and perfect make the gift basket with a dear greeting card. For environmental reasons, we have largely avoided additional packaging or decoration made of plastic.
Gift basket "Tea Time"
In the basket for tea lovers are 2 different types of tea: Darjeeling from India and ginger-orange-lemongrass tea. In addition, fudge, rock candy (or kluntjes) in a glass jar. A delicious bee honey and a pretty homemade baking mix for brownies in a milk bottle complete the basket. For the basket we chose size L, nature mixed. We tied the little labels to the jars and bags with parcel string. You can download the labels and the recipe for the baking mix here, print them and cut them out.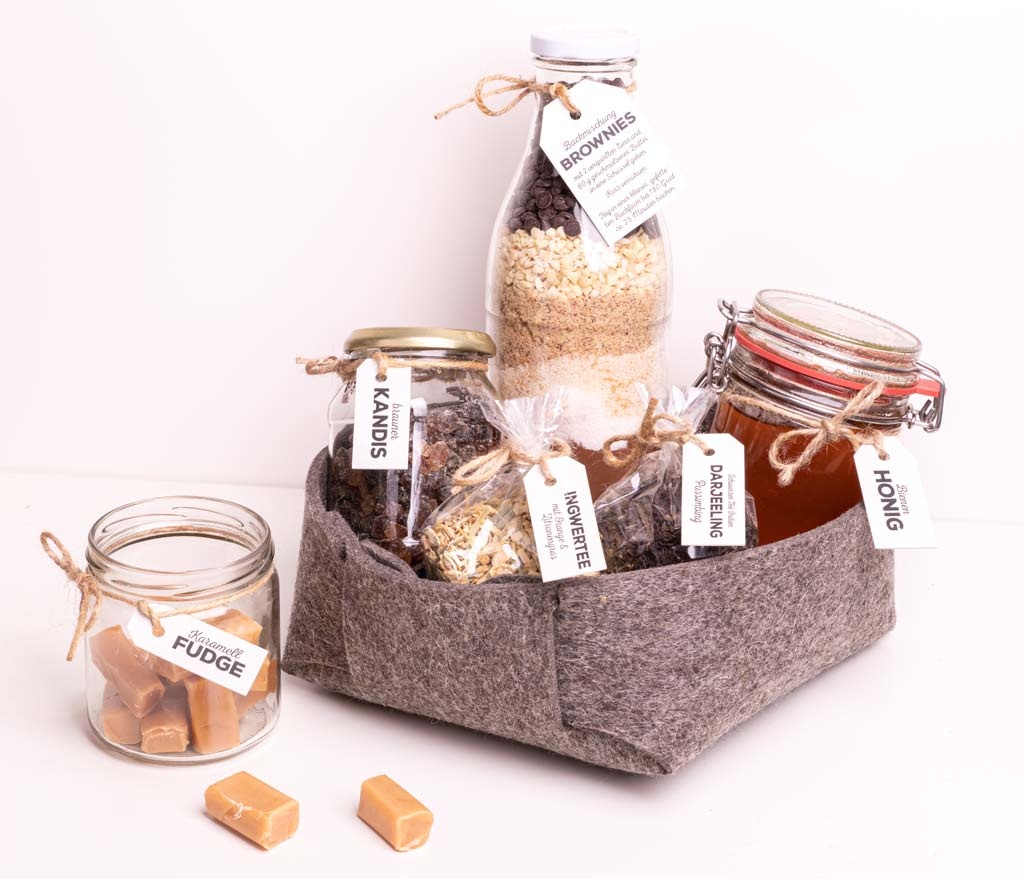 Gift basket "games night"
In the orange basket (burnt orange mixed in size L) we have packed the 3 card games "SKYJO", "Wizard" and "6 takes!". Behind the games is a big bag of potato chips (alternatively popcorn) - that already fills the gift basket nicely. Then we filled up the remaining space in the basket with whole, unshelled peanuts.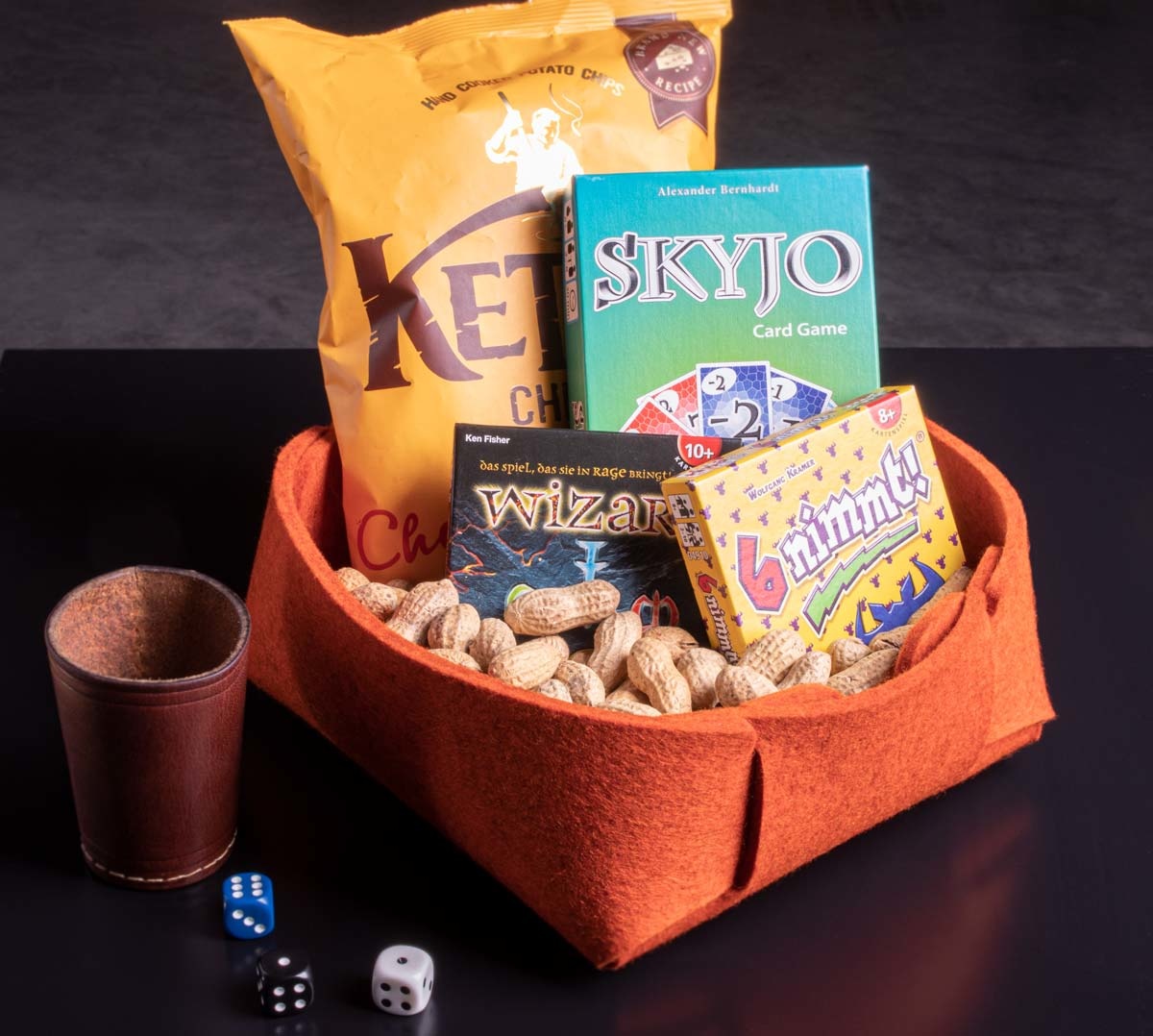 Gift basket for barbecue masters
Now the barbecue season can come: For the gift basket as a souvenir for the BBQ, we have packed in the basket in size S (anthracite mixed) a spice rub, two barbecue sauces, a burger press, a barbecue thermometer and a small barbecue book with recipes.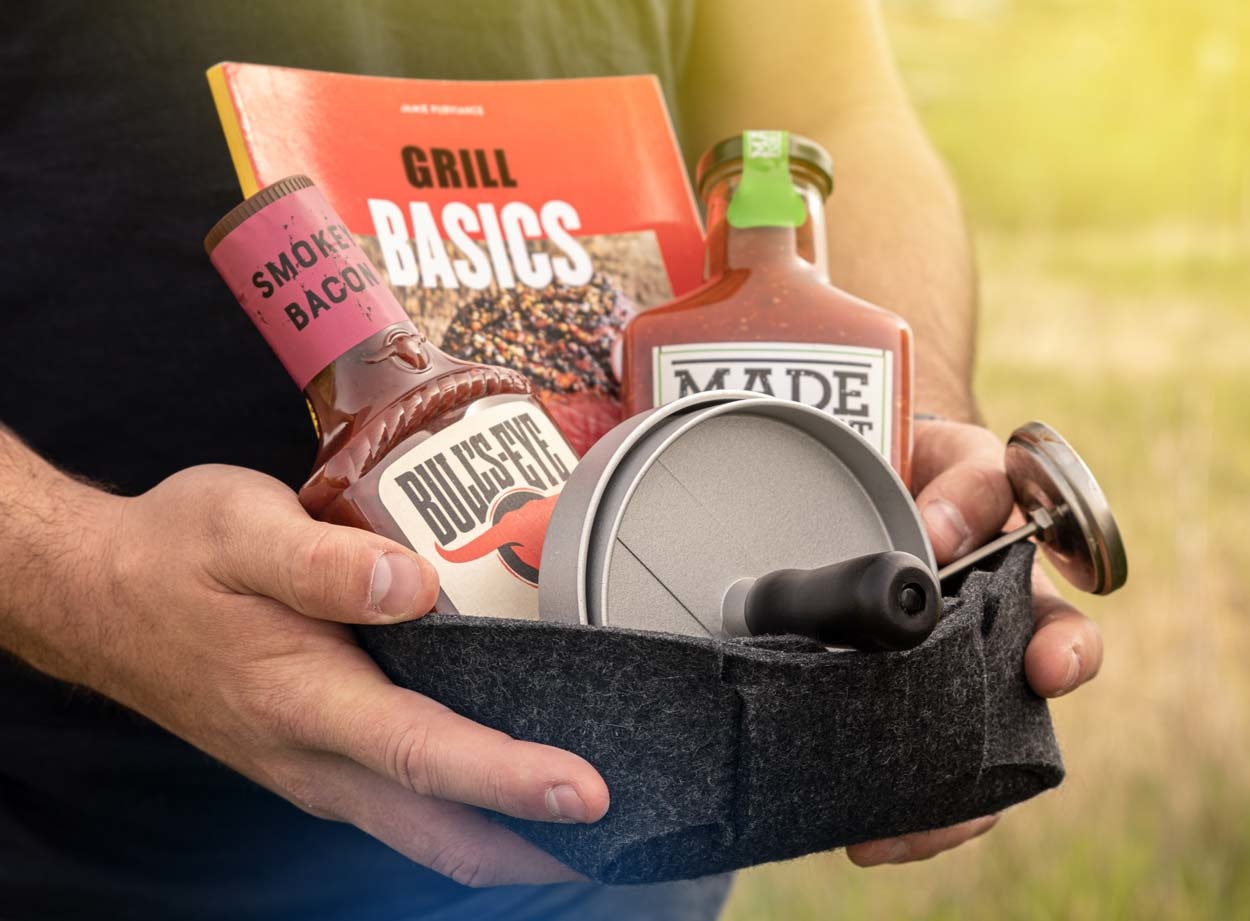 Gift basket X-Mas
Apple nut and almond seed: star keychain or coaster, homemade roasted almonds or Christmas cookies, knitted socks and a beautiful Christmas poem as a greeting card.
Gift basket spa for wellness lovers
Here come products from the wellness and body care area such as, bath additives, creams or perfumes great out. The homemade scrub (eg lemon sugar) makes the basket more personal and a relaxation music CD, If you want to spend more money, just add a voucher for a massage or admission to a sauna area.
Sweet gift basket "Lollipop"
For the colorful greeting with sweets we used in the basket (size L, pink uni) heart candies, licorice, XL lollipop, candy cane, mouse bacon (marshmallows) and fine chocolate. We filled the loose candies into discarded jam jars with snap on lids and screw on caps. We tied the small labels to the jars with parcel string. You can download the labels here.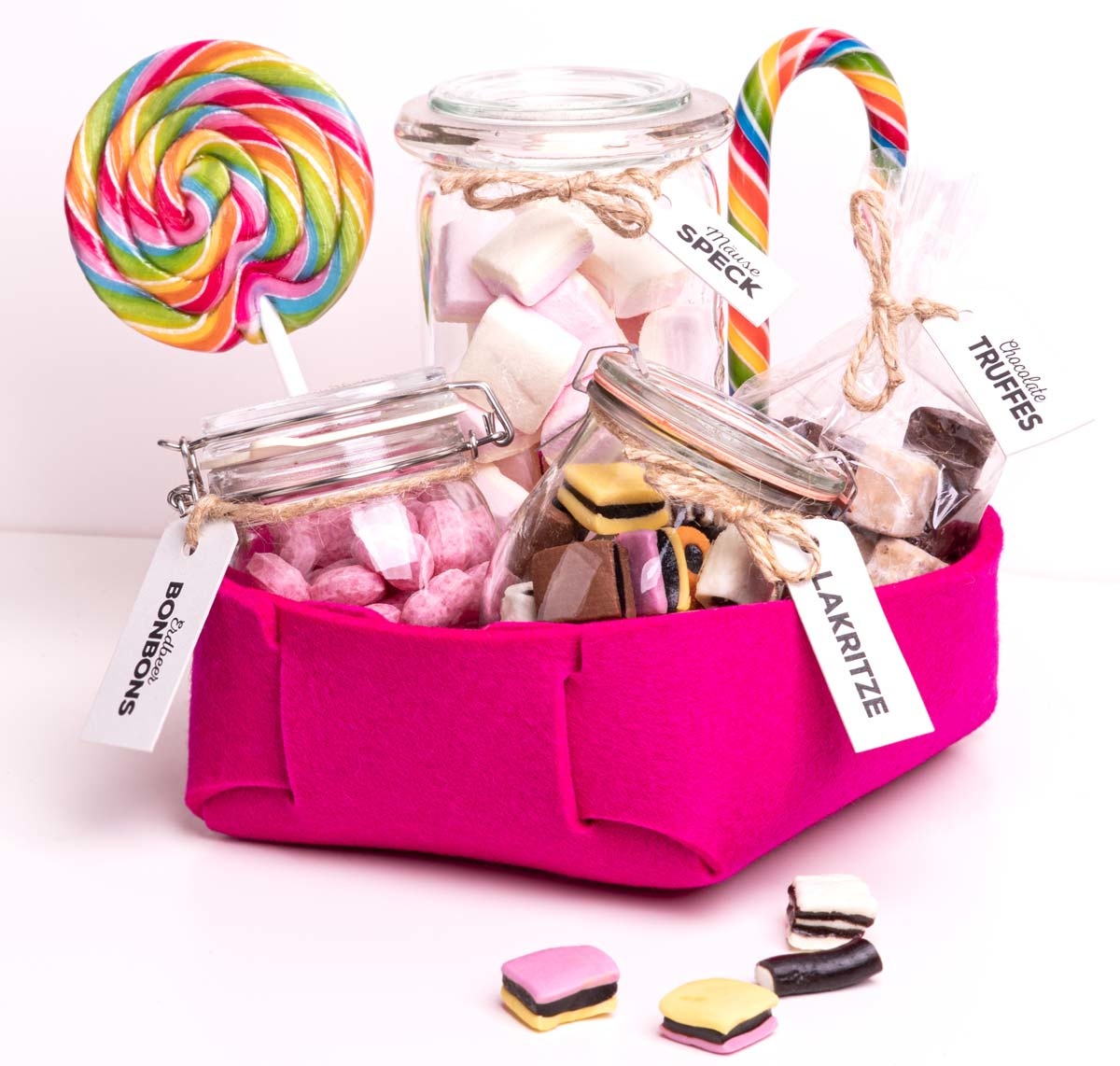 The classic: gift basket with delicious Italian delicacies
In the application example we show the basket in size L, as a gift basket filled with Italian delicacies. It doesn't take much at all: two packets of nice pasta, a jar of green olives, a bottle of olive oil and a salami cacciatora with fennel (alternative for vegetarians: a piece of Italian pecorino).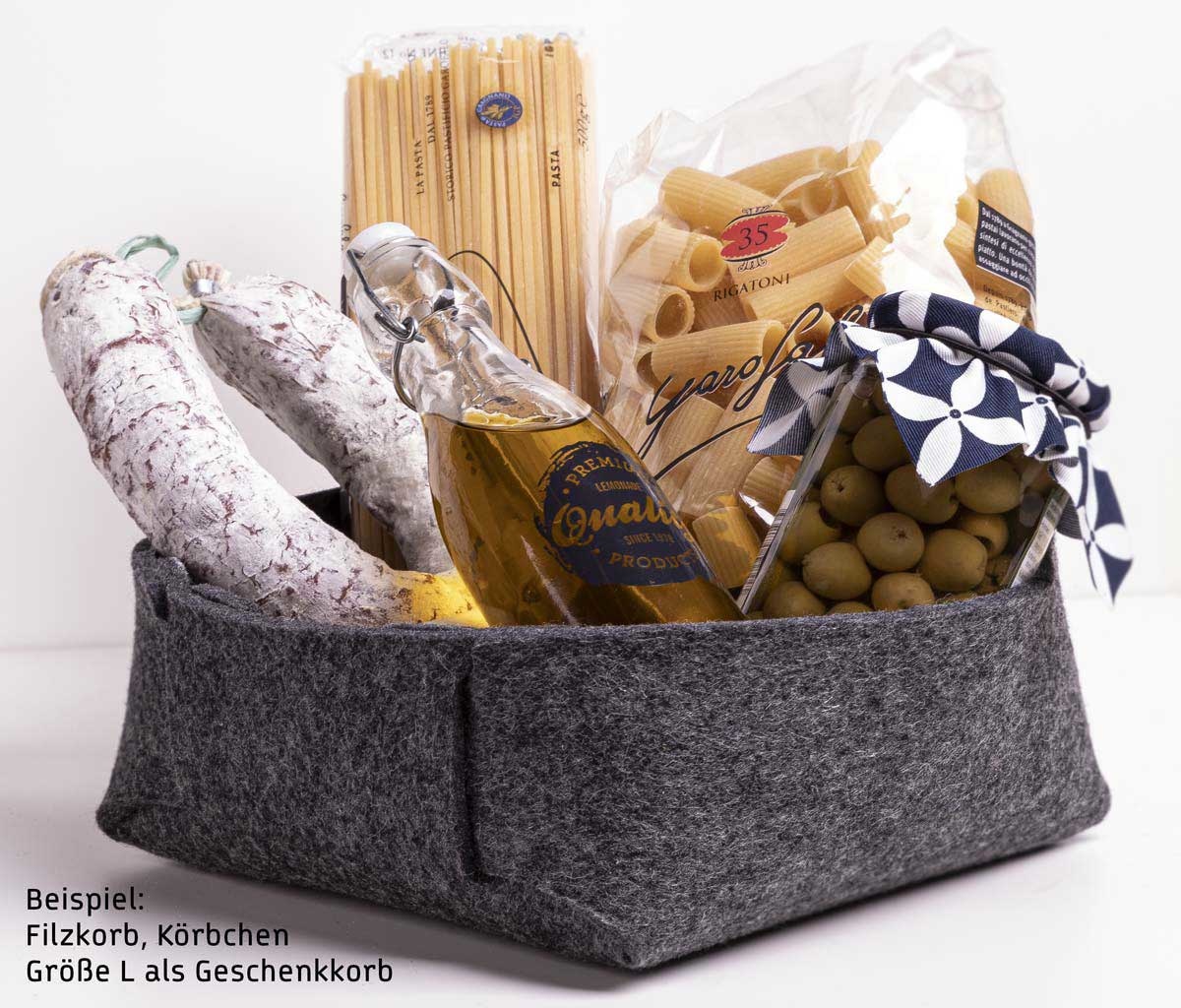 After that, the gift basket is far from being obsolete!
We are sure that the basket will later be put to a second use, because it makes a great little storage basket for many things of daily use. The felt basket is then also excellent as a catchall tray and for storing many small things of everyday life or as a bread basket.
Buy your felt basket