Easter basket of felt - ideas as Easter decoration & Easter gift
In spring, the Easter basket comes into its parade role.
Tasteful decoration suggestions with the valuable Easter messengers made of genuine wool felt: That you can decorate the colorful eggs and Easter sweets such as the chocolate bunny and fondant and jelly eggs in our Easter basket, almost goes without saying. It's also a great idea to spruce up the basket with willow catkins or other twigs and arrange it with hay or fresh moss from a spring walk. Self-painted or dyed eggs make the basket's Easter design perfect. Or place a small vase of daffodils or tulips in the basket next to the sweets.
The Easter basket does not always have to be gaudily decorated.
We are friends of the principle of "less is more", because a discreet Easter decoration, which moves in simple and reduced color worlds, often has a more concise effect. It can be charming to do without color altogether, and arrange the decoration with brown or white eggs and natural feathers. Some fresh greenery with white flowers complete the arrangement of the Easter basket.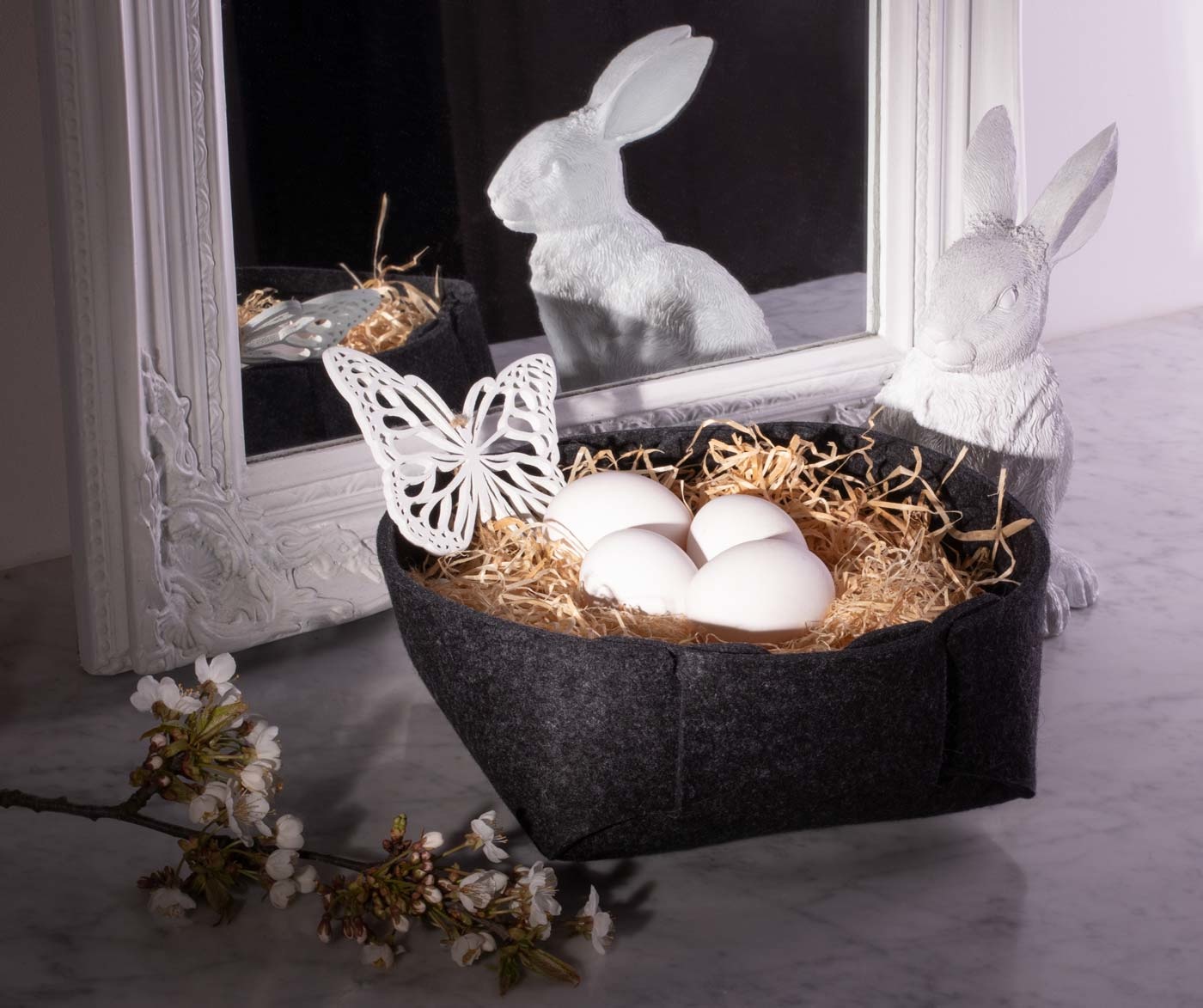 All in yellow: Pop decoration of the felt Easter basket
"Less is more" is also helpful for a pop style of Easter basket decoration. Focus on 1-2 colors and color-coordinate Easter bunnies and flowers with the basket.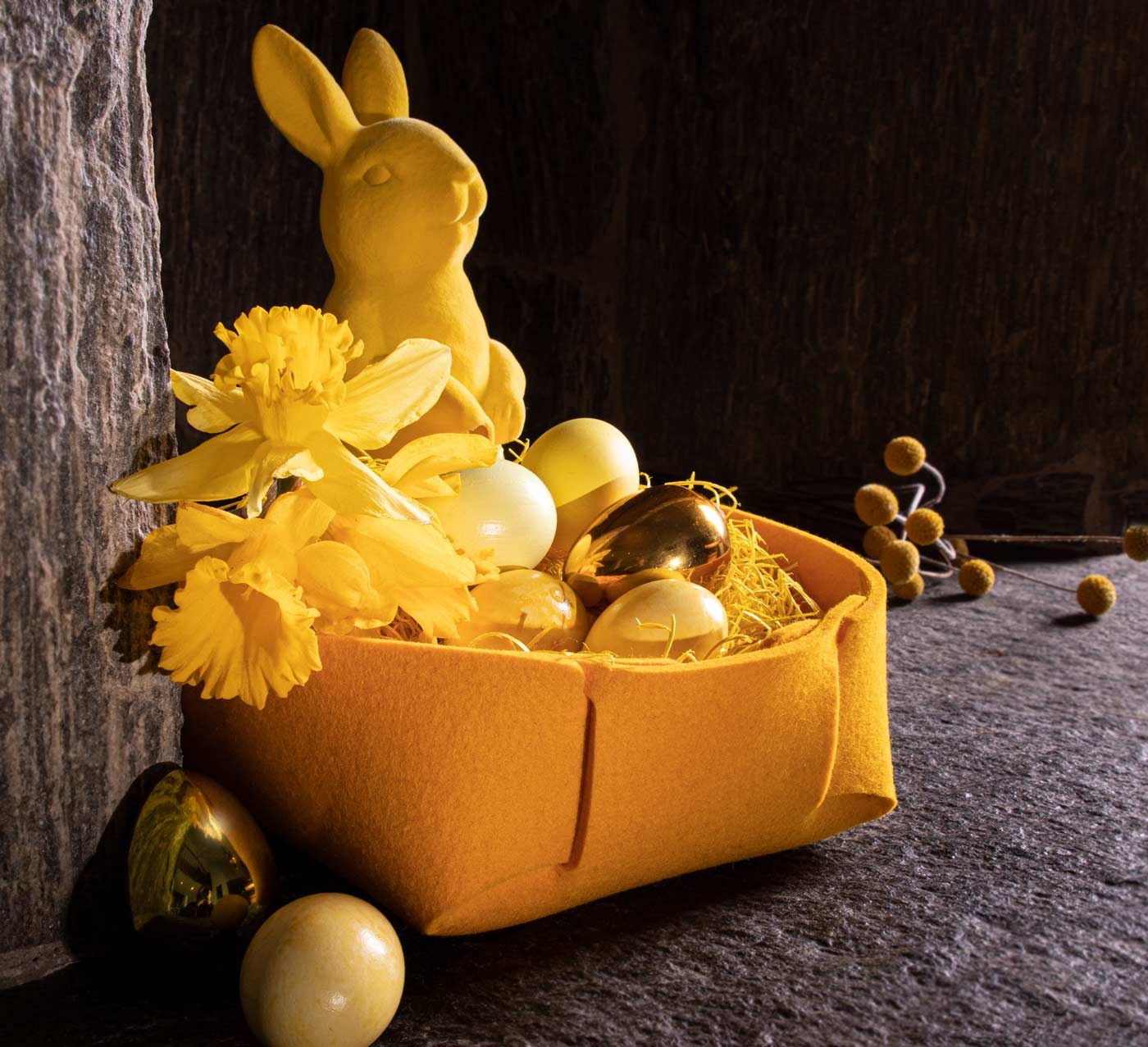 The Easter basket - natural felt + glamorous glitter
This is where the golden bunny comes in - we combine it with the felt Easter basket in petrol and Easter eggs that vary in different golden shades and textures - from subtle gold shimmer to gold glitter to a surface completely covered in golden sequins.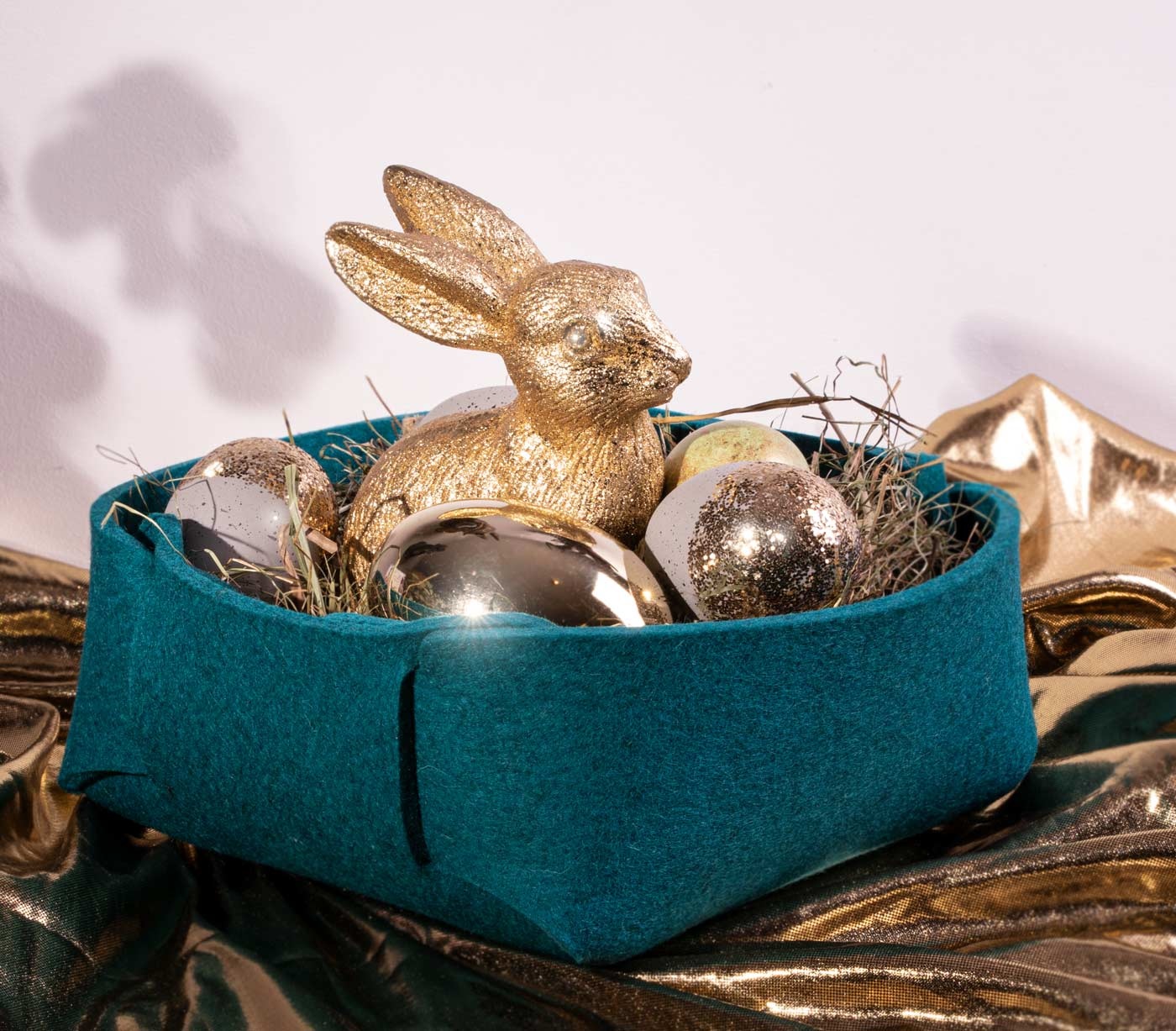 Giving the Easter basket as a gift ...
What to give as a little something for Easter? The felt basket is the perfect idea as a gift for all friends, mothers, grandmas, grandpas, aunts and uncles. With a homemade Easter lamb, the basket becomes a loving gift for Easter. But the felt baskets are not only for Easter a feast for the eyes, the useful felt pieces decorate the home of the recipient throughout the year or make themselves useful in other ways.
What do I do with the Easter basket after Easter?
The Easter basket is quickly put together and can be stored after use again space-saving and lying flat. Or use the felt Easter baskets afterwards as a bread basket or key deposit.
The high-quality felt baskets are available for purchase in our online store: